Considerations Beyond Price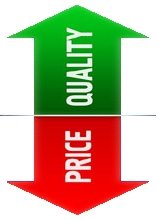 We understand that price is an essential consideration.  We also suggest that you consider the following elements in making your selection of a reserve study provider:
QUALITY    The study is custom tailored to your requirements and policies for content and level of detail.  All studies meet CAI National Standards and are supervised/performed/reviewed by a certified RS/PRA.
LOCAL PRESENCE    Our 15 highly experienced analysts are located throughout the Country to provide nearby, personal service within their territory.  Follow the link to brief summaries of our analysts' credentials.
RESPONSIVENESS    We typically complete and issue the Preliminary Report within one month of receiving a signed contract.  Faster response can be arranged if we know your specific need.
EASY TO READ AND UNDERSTAND    Miller – Dodson's goal is to provide you and your Board with a report that is the easiest possible to understand and use at a competitive price.  If you have any questions as you review the attachments, please contact us. 
EXCEL SPREADSHEET AVAILABLE    Once the final revisions have been made, we will be pleased to provide an Excel spreadsheet of the report to those clients that request it.
A SIMPLE EXAMPLE    Need a little better understanding?  We hope this link helps.  Reserves 101,  briefly describes the history and basic principles of Reserves and Reserve Studies.
VIDEOS    More Questions? … We encourage you to visit the Video Library link!
Thank you for considering Miller Dodson Associates, Inc.